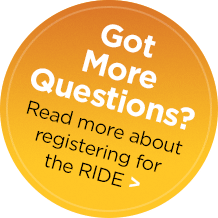 Registration Details
We hope all participants will fundraise to support the RIDE charity that recruited you - that's the purpose of the event.
By fundraising the minimum or more, ($150 for adults / $75 for youth), participants help support and grow the charity they are riding or walking for. And, when you raise the minimum, you avoid paying the $25 registration fee and earn our beautiful RIDE long-sleeved t-shirt as well.
Quick Review
Fundraise and waive reg fee - during registration, waive the $25 registration fee and commit to fundraising a minimum of $150 (for adults aged 18+) or $75 (for youth aged 11-17). If you don't hit your fundraising minimum you can self-donate to top-up, or pay the reg fee.
Participants 10 and under are free - participants aged 10 or under are not charged any registration fee. However, to qualify for the RIDE t-shirt they'll need to raise $75.
Once paid, the registration fee cannot be refunded, is not eligible for a tax receipt, and does not count towards your fundraising goal.
Note: The reg fee will increase to $40 on Monday, September 25th.
If you don't fundraise - the registration fee must be paid during online registration (preferred), or on event day when you check-in (but you'll have to wait in line... yuck!).